It's been ages. Let me catch you up!
A few weeks ago I went on an eating binge at work that semi rolled into my week long vacation, which all ended up in me gaining 3 pounds (have lost 5 before said massive eating binge). And honestly, I'm just happy that I didn't gain 10 pounds, because that's legit what I thought I had gained before I checked the scale.
I've been back for a week now and am determined to get back on my eating plan.
Also, I've definitely figured out that my issue is the NOW.
As in, I WANT FOOD RIGHT NOW AND I WILL KILL SOMEONE IF I DON'T EAT AT THIS VERY MOMENT
Which honestly, makes a lot of sense if you know me and is definitely something I'm constantly realizing. I get angry quick and go from 1 to 100 in a blink of an eye, although I do happen to not shoot flames out of my head. Thankfully (cause, OW)
On a positive note, it is nice to learn that my long game isn't my issue. When I started this I had moments of being sad that I would need to always focus on eating healthy, but it turns out that over time it doesn't actually bother me. But when lunch rolls around, LOOK OUT *cue the flames*
So here I am, back and at it! I've also added in slight exercise as of today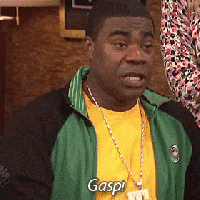 I know, right. I'm just as shocked as you are.
I spent 10 minutes on a stationary bike and only burned less then 25% of a Mountain Dew. But whose counting!
I'm going to do a life/anxiety/thoughts/random update here soon, so keep an eye out for that!
Tater out!